COVID-19
Please help us stay safe and continue working during the pandemic. We have reviewed the way we work to keep the public and staff safe. If you are near where we are working, please maintain social distancing and follow the signage.


We are writing to you to let you know that road works will be taking place on Milton Road, between Velder Avenue junction and St Marys Roundabout from 15 June for approximately 4 weeks.

What will be done?
We are combining three pieces of works to minimise the disruption caused by road works: drainage improvements, cable works by CityFibre and road resurfacing.

Why are you doing this?
Colas are contracted by Portsmouth City Council to maintain the roads and pavements in the city. Milton Road has been highlighted as requiring resurfacing and drainage works to increase the life of the road. CityFibre need to install cables hence the opportunity for the work to take place at the same time.

Will this affect the bus route?
The First Bus service 2 will be affected and will be working on a new route during our working hours. During phase 3, the First bus service 12 will also be affected. Bus stops will be affected and users will have to use alternative bus stops. Phase 1 northbound lane closure: 8pm—6am. At Velder Avenue traffic lights, the bus will turn right on to Velder Avenue, carry on down Eastern Road to Portsmouth College, turn left onto Tangier Road to the end, turn right at Copnor bridge back on to the normal route. The alternative stops would be south of Velder Avenue or Milton Road/Langstone Road.

Phase 2 southbound lane closure: 8pm—6am. After Copnor Bridge, the bus will turn left in to Tangier Rd to the end, turn right onto Eastern Road/Velder Avenue to traffic the lights, left onto Milton Road back on to normal route. The alternative stops would be Milton Road/Langstone Road and Milton Road/Priory Crescent.

The diversion routes during phase 3 will be the same as the above, and the First Bus service 12 will follow the same diversion route.

Is there a diversion route?
There will be a clear, signed diversion. The diversion route for the northbound lane closure is Rodney Road on Fratton Way to Goldsmith Avenue, when reaching the roundabout, turn off onto Fratton Road and turn right onto St Marys Road until reaching St Marys Roundabout. The diversion for the southbound lane closure will follow the same itinerary in reverse order.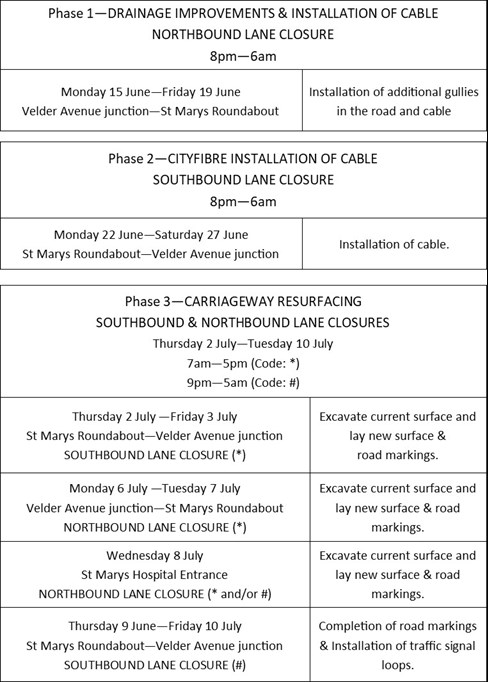 Q. What precautions should I take during the road works?
A. When the resurfacing works are taking place, do not walk or cycle on the newly laid, hot surface; if you do please check that you don't have bitumen on your shoes or cycle. If you do get bitumen on your clothes or shoes, it can be removed with an appropriate cleaner. Please also look out for your pets walking on the new surface especially cats who may be out roaming.

Q. What impact could the road works have on me?
A. Road users are advised to expect some delays and use alternative routes where possible. Please also allow extra time for journeys. We aim to maintain local access, however this will be restricted at times.

Q. Will the work be noisy?
A. Some aspects of this work will be noisy, mostly the excavation of the road surface. There will also be bleepers from our vehicles when reversing, these are mandatory for health and safety reasons. We will try to keep all noise to a minimum.