Colas, on behalf of Portsmouth City Council plan to carry out signalised junction improvements to Park Road & Burnaby Road junction.

What will be done?
There will be 3 different types of work carried out at this junction.
- Pedestrian Crossing Improvements
- Traffic Signal Upgrades
- Carriageway Resurfacing on Park Road and a section of Burnaby Road

When are the works taking place?
PHASE 1 The works will start on the night of Monday 21st October under single lane closures allowing traffic to travel only Northbound on Park Road. There will
be no vehicular access to Park Road from Anglesea Road, there will also be no access to Burnaby Road from Park Road. The lane closures will be in place until
the 18th November when a full road closure will commence. Our working hourswill be 8:00pm-6:00am.

PHASE 2 There will be a full road closure of Park Road at night between Anglesea Road and St George's Road from the 18th November for 5 nights. There will be
no access to Gunwharf Quays via Park Road. Burnaby Road will also be closed to allow the resurfacing works to be carried out. There will be clear, signed diversion routes in place. Our working hours for the closure are 9:00pm-6:00am, however Burnaby Road will be closed from 8:00pm-6:00am.

What impact will it have on me?
There will be no on-street parking during the working hours in the area of the closure (Please see map of work). Please be advised that any vehicle hindering or obstructing our operations will be removed under the Portsmouth City Council (Highway Maintenance & Public Cleansing) (Temporary Prohibition of Driving,
Loading & Waiting) (No 04) Order 2018.

Road users are advised to expect some delays and use alternative routes where possible. Please also allow extra time for journeys. Access to Gunwharf Quays will be maintained using the diversion routes.

PHASE 1 - Lane Closure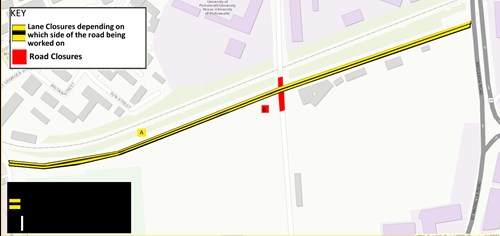 This part of the scheme will take place from the 21st October for 4 weeks. During this time, there will be a new footway crossing installed, upgrades to the existing crossing as well as traffic signal upgrades. Our working hours will be 8:00pm-6:00am.

PHASE 2 - Road Closure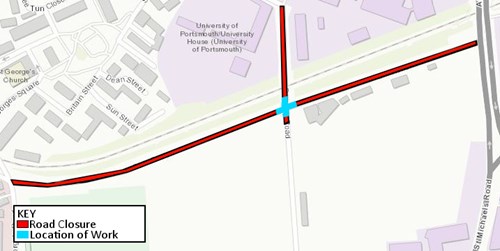 The road closure will be in place from the 18th November for the road to be resurfaced. There will be full diversions in place. The road will be closed between 9:00pm-6:00am. Burnaby Road will be closed between 8:00pm-6:00am.
Frequently asked questions

Q. Why are you doing this?
A. We are contracted to maintain the roads and pavements in the city. Park Road has been selected for improvements to improve safety and increase the longevity of the road.

Q. Will this affect the bus route?
A. Buses will not be affected by these works.

Q. What precautions should I take?
A. Do not walk or cycle on the newly laid, hot surface, if you do then please check that you don't have bitumen on your shoes or cycle. If you do get bitumen on your clothes or shoes, it can be removed with a proprietary cleaner. Please also look out for your pets walking on the new surface especially cats who may be out roaming at night.

Q. Will the work be noisy?
A. There will be some aspects of this work which will be noisy, mostly during the planing of the road surface. There will also be bleepers from our vehicles when reversing, these are mandatory for health and safety reasons. We will endeavour to keep all noise to a minimum and your patience in this matter is appreciated.

Q. Where can I find out more information about this work? 
A. Our Twitter page is updated daily with information about work in your area. Please follow @ColasPortsmouth.
Colas would like to thank all road users for their patience during these works.
We aim to keep disruption to a minimum.