UPDATE

Due to weather conditions and unforeseen circumstances, the Spur Road resurfacing scheme has been postponed. Work will continue on 18th November until 21st November. Our working hours will remain 21:00-5:30.
Thank you for your patience. 

What will be done?
Colas, working on behalf of Portsmouth City Council, plan to carry out resurfacing works to Spur Road. This work will be carried out for a period of up to 9 working days and nights.

When are the works taking place?
PREPARATORY WORK(DAYS)
On Thursday 7th November and Friday 8th November, we will be carrying out preparatory works. The working hours for these will be 9:30-3:30.

RESURFACING WORK(NIGHTS)
On Monday 11th November, Colas will begin the resurfacing of the road. We will start by planing off the existing surface of the road. The working hours for this part of the scheme will be 21:00-5:30. On Tuesday 12th November and Wednesday 13th November, we will lay the new tarmac. The lining and antiskid will be applied to the new surface on Thursday 14th November. This part of the scheme will be carried out at night under a full road closure to minimise disruption to traffic.
Diversions will be clearly signposted.
There will be no weekend working. Dates and times may be subject to change due to adverse weather conditions.

What impact will it have on me?
There will be no on-street parking during the working hours. Please be advised that any vehicle hindering or obstructing our operations will need to be moved under the Portsmouth City Council (LCR Resurfacing - Various Roads) (Temporary Prohibition of Driving, Loading and Waiting) (No.121) Order 2019. Road users are advised to expect some delays and use alternative routes where possible. Please also allow extra time for journeys. We will endeavour to maintain vehicular access for residents and businesses, however, this will be restricted at times.
Footways will be open for pedestrians.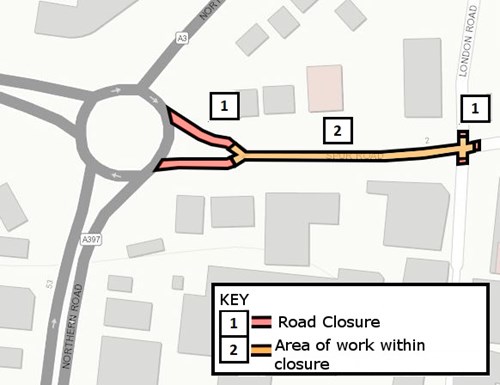 Why are we carrying out these works at night?
The reason we do the works at night is to minimise disruption to road users. The volumes of traffic on Spur Road during the day far exceed the volumes at night and therefore working at night causes less disruption.Spur Road is a major route in Portsmouth, if we carried out roadworks during the day it would mean we would need to close the road in full, have diversions in place down the smaller roads which would cause disruption and a possible grid lock if the diversions were not followed. It would also be too disruptive to the bus services, school runs, businesses, emergency services and generally people driving to and from work or appointments.


Frequently asked questions

Q. Why are you doing this?
A. We are contracted to maintain the roads and pavements in the city. Spur Road has been highlighted as requiring resurfacing works to increase the longevity of the road.

Q. What precautions should I take?
A. Do not walk or cycle on the newly laid, hot surface. If you do then please check that you don't have bitumen on your shoes or cycle. If you do get bitumen on your clothes or shoes, it can be removed with a proprietary cleaner. Please also look out for your pets walking on the new surface especially cats who may be out roaming at night.
Q. Will the work be noisy?
A. There will be some aspects of this work which will be noisy, mostly during the planing of the road surface which starts on the 11th November. There will also be bleepers from our vehicles when reversing, these are mandatory for health and safety reasons. We will endeavour to keep all noise to a minimum and your patience on this matter is appreciated.

Q. Will this affect the bus route?
A. This will affect Stagecoach Service 23 the last (9) journeys from Southsea to Leigh Park and the last (6) journeys from Leigh Park to Southsea.
The diversion will be via the A27 and Eastern Road, but the bus company will pick up from Cosham Health Centre for both the inbound and outbound services and run a shuttle bus along Havant Road from Court Lane to Havant Road and vice versa. For further information contact Stagecoach on 0345 121 0190.

Q. Where can I find out more information about this work?
A. For more information you can contact us on 023 92 310900. Our Twitter page is updated daily with information about work in your area. Please follow @ColasPortsmouth.

Colas would like to thank all road users for their patience during these works. We aim to keep disruption to a minimum.